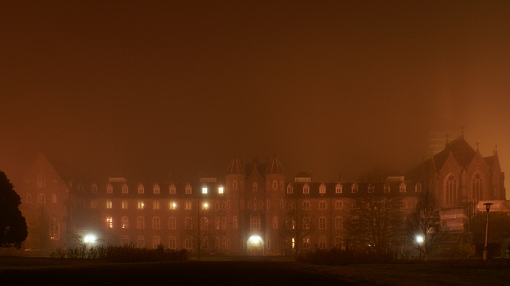 Herzlich willkommen zu meinem ersten "Breitbild" Eintrag :-) Ich finde, manche Bilder kommen einfach nicht so gut rüber in den üblichen kleinen 224×150 pixel Bildchen.
Jedenfalls, das ist der Anblick, der sich mir jedes Mal bietet, wenn ich nachts nach "Hause" gehe. Wie schon damals wohne ich auch diesmal temporär in diesem Harry–Potter–ähnlichen alten Priester Kolleg, a.k.a. "Saint Patricks". Dort ist nicht nur das Priesterschule drin, sondern auch die Gästeunterkünfte der Uni. Und so wate ich des öfteren nachts durch dicken Nebel auf dieses Grusel–Schloss zu…
Ahso, die Wohnheim–Tante ist endlich wieder im Büro, macht gerade große Inventur und kann mir am Freitag eine definitive Ansage machen, ob noch was frei ist… Drückt mir die Daumen bitte!
If you don't want to lose your grip on reality, deny that reality exists. You can't lose what doesn't exist.