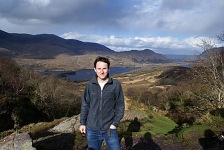 Hach, was für ein schönes Wochenende. Ich hatte mir ja letzte Woche noch quasi in letzter Sekunde ein Plätzchen für die kleine Tour zum "Ring of Kerry", ganz im Südwesten Irlands, ergattern können.
Der völligen Unvorhersagbarkeit sowie extremen Wechselhaftigkeit des Wetters sei Dank — wir hatten am Samstag, wo wir den Kern der Tour gemacht haben, absolut geniales Wetter. Für die Geographen (und diejenigen, die Google Earth installiert haben) hier eine Übersicht des Tages.
Es hat zwar ab und zu mal geregnet, aber passenderweise immer genau dann, wenn wir grad wieder in den Bus eingestiegen waren ;-) Somit gab's zum Teil ziemlich dramatische Photos, die sehr schön den Charakter des Landstriches rund um den höchsten Berg Irlands herauskehren…
Chewing gum proves you can have motion without progress.