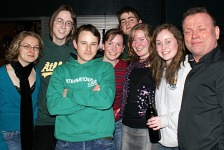 Nachdem vorgestern/gestern das Internet für 30 Stunden weg war (!) und das gesamte Hamilton einen Produktivitätsschub sondergleichen hatte, ging es abends zum "Music Quiz" in der SU.
Organisiert vom Gospel Chor hat man etwas Geld für einen guten Zweck gesammelt, und nebenbei einen lustigen Quiz veranstaltet. Leider wusste ich nicht wirklich viel (es waren einfach zu "moderne" Fragen, so nach dem Motto nenne drei Justin Timberlake Alben, vervollständige folgende lyrics, etc.) — bis auf ein paar Fragen, deren Antworten dann allerdings auch niemand anders im Team kannte ;-)
Mit geballter Wissenskraft haben wir erstaunlicherweise den zweiten Platz gemacht und eine Flasche Wein sowie einen Gutschein für ein romantisches Dinner zu zweit in einem der Pubs hier (clever, da wir 8 Leute im Team waren…) bekommen.
Danach ging es dann, wie so oft, in's Roost — Janine ist ja grad zu Besuch hier (eine Sekretärin von meinem Prof. in Deutschland).
My idea of housework is to sweep the room with a glance.