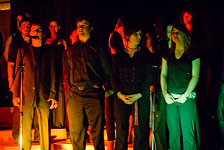 . . . how sweet the sound . . .
Eines der Lieder von gestern Abend. Nach zweieinhalb Monaten Proben war es endlich soweit — unser Jahresendkonzert vom Gospelchor. Das Beste: ich hatte sogar ein Solo, gleich im ersten Lied :-)
Die Aula Maxima war erstaunlich voll. Mit Kerzen und ein paar Scheinwerfern nett ausgeleuchtet — und natürlich unserem Gesang — war es ein wirklich schöner Abend, der leider viel zu schnell vorbei war (obwohl, danach ging es ja weiter in den Pub ;-)).
Das Konzert wurde auch aufgenommen (vom Tonmenschen, ich hab's zur Sicherheit aber auch nochmal selbst mitgeschnitten). Mal sehen, wie die "ordentliche" Aufnahme wird…
For sale: Braille dictionary; like new; must see to appreciate.