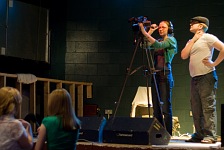 Heute durfte ich mich nochmal in "Riff Raff"–Schale werfen (die Figure aus der Rocky Horror Picture Show, die ich neulich spielen durfte).
Ein Student wollte einen kleinen Dokumentarfilm über uns drehen, so als Jahres–Abschluss–Projekt (wenn der fertig ist werde ich ihn natürlich hier verlinken).
So durften wir bestimmt 10x den "Time Warp" tanzen (ganz getreu dem Motto Leeet's do the time warp agaaaaain…) und dann noch ein paar Einzelinterviews geben.
War zwar alles ziemlich gestellt (da wir ja nicht wirklich mehr proben mussten, das Stück ist ja schon passé), aber trotzdem nochmal lustig ;-)
Today I met with a subliminal advertising executive for just a second.