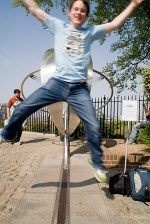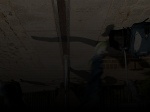 Am Samstag ging's dann zusammen mit Laetitia auf nach Greenwich, wo ja der weltberühmte und ein Stück weit auch recht wichtige Meridian durchläuft / festgelegt wurde… In dem Royal Greenwich Observatory haben wir eine sehr informative und nette eine Tour mitgemacht, die mir erstmals das (geographische) Länge / Breite Problem vor Augen geführt hat.
Auf dem Weg zur Fähre sind wir durch einen kleinen Markt gekommen, wo wir gleich Mittag gemacht haben. Dann ging's wie gesagt mit Touri–Frachter wieder die Themse hoch zurück in die Stadt.
Dort sind wir dann um das Parlament (mit samt dem berühmten Glockenturm) gewatschelt und haben uns anschließend dann doch eine Fahrt mit dem London Eye (aus preislichen Gründen, die Säcke…) verkniffen…
Lieblingsfotos des Tages: "Hasi", "Tony Blair's Sohn", "Subway" und "Afro".
I studied a long time to become a doctor, but I didn't have any patience.