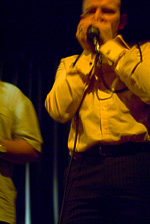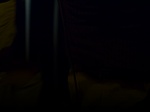 Samstag Abend gab's übrigens was für die Ohren… Ich war mit zwei Freunden in einem der Jazz–Pubs von Dublin, dem "JJ Smyth's".
Dort spielte eine irische Bluesband (sie hieß "Parchman Farm" glaub' ich) einen soliden, routinierten, coolen Blues. Viel mehr gibt's eigentlich nicht zu berichten, außer, dass wir den Nachtbus zurück nehmen mussten (der letzte reguläre Bus nach Maynooth fährt um 23:30 Uhr ab). Das heißt, die Rückfahrt kostete dann gute Laune bereitende 6 EUR (gegenüber 2,10 EUR normalerweise!).
Trotzdem war es ein netter Abend. Ahso, vorher hatte ich mich noch in Sachen Wanderrucksack umgeschaut und schlau gemacht. Letztendlich habe ich mich für den Berghaus Jalan 70+15 entschieden. Mehr dazu, wenn er hier ist (ich hab ihn im Internet dann doch ein paar Kröten bililger bekommen)…
The more you run over a dead cat, the flatter it gets.