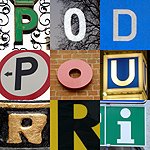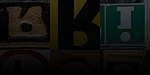 Seit nun gut 6 Monaten gibt's endlich mal wieder eine französische Folge von Podpourri. Ich weiß, man glaubt's kaum ;-)
Diese Folge wurde on the road (ok, im Wohnzimmer) aufgenommen — und zwar bei und mit Laetitia in London.
Laetitia ist eine alte Klassenkamaradin aus Berlin, die's inzwischen nach London verschlagen hat. Dort arbeitet sie als Sektretärin des Chefs einer renommierten und alten Schweizer Bank — wow! Eigentlich wollte ich sie ein bissl dazu ausfragen, aber so weit kamen wir irgendwie nicht so recht. Haben uns wohl ein bissl verquatscht (ist auch die bisher längste Episode…). Auf jeden Fall eine lustige Aufnahme (wenn Ihr Französisch könnt ;-)), Laetit erzählt am Ende sogar einen Witz!
Radioactive cats have 18 half–lives.