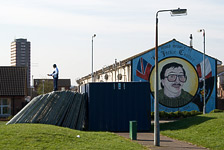 Und schließlich kommen wir zum Sonntag, wo wir uns Belfast an sich angeschaut haben.
Ein absolutes Muss ist ja eine sogenannte "Black Taxi Tour". Man wird dabei von einem Taxifahrer durch West-Belfast gefahren, mit ein paar Stops, wo einem wichtige und historische Hintergründe und Geschichten des Nordirlandkonflikts erzählt werden, der sich in Belfast ja mit am intensivsten zuspitzte. Es war irgendwie krass und auch ein Stück weit bedrückend, durch diesen Stadtteil zu fahren, die teilweise riesigen Mauern, Zäune und geschlossene Tore zu sehen, die die Wohngegenden trennen, die "Gedenkgärten" an die Opfer, die bemalten Hauswände… Schaut Euch mal an, was der Junge auf dem Bild in der Hand hält…
Nach der Tour hab ich mich allein und zu Fuß auf den Weg gemacht um mir die Stadt in Ruhe und ausgiebig anzuschauen. Prominent ist hier die City Hall (hier bei Nacht) im Zentrum der Stadt. Es gibt aber auch eine Reihe interessanter Blicke ein bisschen ab vom Schlag. Schaut einfach mal durch die Bilder.
Um mal ein bisschen Bilanz zu ziehen — es war eine geniale Tour, und ich kann jedem nur empfehlen, auch mal nach Belfast und Nord-Irland zu fahren. Man spürt die Bemühungen der Leute, wieder zu einem "normalen" Leben zurück zu finden nach all den schmerzlichen Jahren. Ich habe mich zu keiner Zeit irgendwie unsicher gefühlt — Geburtsstadt der Titanik ist statistisch gesehen sogar die zweit-sicherste Stadt der Welt (nach Tokyo)!
The other day I broke 70. That's a lot of clubs.