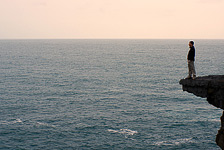 Nach Dublin ging es dann auf die Aran Islands an der Westküste des Landes.
Obwohl hier in Irland so gut wie alles teurer ist als zu Hause, ist der öffentliche Transport zum Teil doch deutlich günstiger: Einmal quer durchs Land hin– und zurück für 15 EUR (jeweils 3:15h Fahrt im Überland–Bus) sind kaum zu unterbieten! Auf die Inseln sind wir dann für 26 EUR mit dem Flugzeug und 16 EUR zurück mit der Fähre gekommen. Übernachtet haben wir in einem wunderschönen Hostel, in einem Zimmer mit Seeblick!
Samstag hat es bei unserer Fahrradtour zwar die meiste Zeit geregnet, aber das hat irgendwie gepasst und den Character der Insel nur noch unterstrichen. Schaut Euch einfach mal die Bilder von der Tour an.
Natürlich durfte die Hauptattraktion der Insel, Dún Aengus, nicht ausgelassen werden. Da wir allerdings erst sehr spät dort waren konnten wir das ansonsten komplett menschenüberlaufene bronzezeitliche Steinfort völlig für uns allein erkunden und ein paar verrückte Bilder an der 100m hohen, senkrechten Klippe knipsen.
Probably the earliest flyswatters were nothing more than some sort of striking surface attached to the end of a long stick.