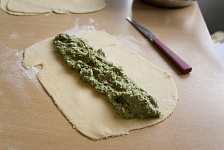 Seit meiner Zeit in Stuttgart hab ich mir vorgenommen, auch mal selber Maultaschen zu machen, so von ganz Anfang an meine ich. Anders geht's ja hier leider eh nicht, da sich Maultaschen (mal ganz von der Qualität abgesehen) nirgends auftreiben lassen.
Diesen Sonntag hat's dann endlich geklappt, und mit der tatkräftigen Unterstützung von der guten Barbara (hier links im Bild) waren wir auch schon nach 2 Stunden rotieren fertig :-) Mengenmäßig war es ein Ansatz für eine ganze Kompanie.
Die Zutaten gab's eigentlich alle bei Aldi und Dunnes (das Brät z.B. hab ich einfach aus ein paar "Deutschen Bratwürsten" geklaut). Nur der Schnittlauch war leider alle gewesen.
Jedenfalls haben wir dann maximal schwäbisch gefuttert, inkl. entsprechendem Kartoffelsalat und deutschem Bier. Jona, seines Zeichens gebürtiger Schwabe, hat's auch super geschmeckt, und ich denke Ingrid wäre auch stolz auf mich!
First draw the curve, then plot the data.