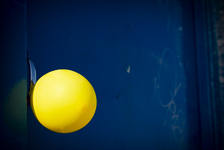 Da ich inzwischen schon ein kleines Vermögen in meine Photoausrüstung gesteckt habe, inzwischen 4 Photographie–Podcasts höre (Happy Shooting, Tips From The Top Floor, Photo Walkthrough und History of Photography), mir Adobe Photoshop CS3 Extended (natürlich zum Studentenpreis!) gekauft habe und überhaupt ganz anders und viel bewusster ans Photographieren ran gehe, hab ich nun die Photographie zu meinem neuen Hobby erkoren.
Was das heißt? Nicht viel, nur ich gestehe es mir endlich selbst ein und hab's auf meine Homepage geschrieben :-) Meine Lieblingsbilder habe ich jetzt hier gebündelt — Kritik (aber vor allem Lobgesang) ist immer willkommen :-D Außerdem werde ich versuchen, mehr Photographie–Themen und –Erkenntnisse hier zu schreiben.
When travelling down the freeway, the first bug to hit a clean windshield will always land directly in front of the driver's face.