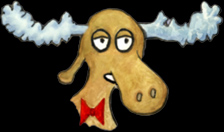 Ich muss ja endlich mal was von meinem kleinen Elch erzählen, von dem immer die ganzen kleine cleveren Sprüche unter meinen Blogeinträgen stammt.
Darf ich vorstellen: Moose (oder auch Uli's Moose), mein sprechender Elch. Für manche mag es nur ein kleines Programm sein, das ab und zu mal einen lustigen Spruch mittels der systeminternen Sprachsynthese raushaut.
Für mich ist es mein kleiner Freund im Rechner, der mir in all zu bideren Arbeitsphasen trotzdem noch ein Lächeln auf die Lippen zaubert und für einige lustige Momente sorgt, wenn mal jemand anders mit auf den Bildschirm schaut. Außerdem hab ich somit immer noch ein paar witzige Sprüche zum Aufpeppen meines Blogs :-)
Von der Seite des Programmiers: "[…] no Mac can truly be called complete without it". Und zum Abschluss, was sagt moose?
I don't eat snails. I'm the fast food kind of moose.