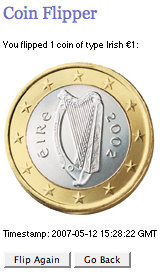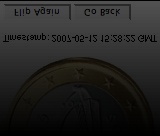 Ich hatte eben einer Freundin bei einer Entscheidungsfindung helfen wollen und habe mal spaßenshalber gegooglet, ob es nicht auch einen online Münzwerfer gibt.
Wie kann es anders sein: natürlich gibt es ihn. Es gibt anscheinend wirklich nichts mehr, was es nicht online gibt. Auf random.org kann man unter anderem eben auch Münzen werfen. Und wie mein lieber Elch [über den muss ich endlich auch mal was schreiben!] schon oft genug bemerkt hat: Anything worth doing is worth doing to excess.
Auf der Seite kann man nicht einfach nur eine virtuelle Münze schmeißen (also eine binäre Entscheidung, 0 oder 1, treffen). Nein, man kann erstmal von einer lange Liste von Münzen wählen — diverse Währungen, Münzwerte, Münzvariationen (beim EUR z.B. alle Landesvariationen), Phantasiemünzen… Dabei bleibt es aber nicht. Der Zufallsgenerator unter der Haupe ist nicht etwa irgendso ein einfacher, im Betriebssystem eingebauter Pseudozufallszahlengenerator. Er ist irgendwie aus eine Reihe von Soundkarten und cleveren Signalverarbeitungsalgorithmen gebastelt, so dass der Zufall aus dem atmosphärischen Rauschen gezapft wird (mehr dazu hier)!
Außerdem gibt es auf der Seite noch eine Reihe von anderen "Zufalls–Services", z.B. virtueller Würfel, Jazzskalen, Lottotippvorschläge, Zufallsbitmaps…
Also, falls Ihr irgendwann mal echte Zufallszahlen braucht, schaut mal auf der Seite vorbei. Und schon seit Ihr noch einen Schritt geek–iger ;-)
Colleges and universities are immune to their own knowledge.