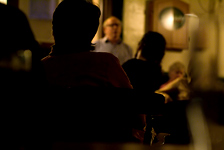 Letzten Freitag bin ich mit einer Freundin mal wieder nach Dublin rein, denn ein Fünkchen Kultur hatte gerufen: Eine Ablussausstellung der Werke von Photographie–Bachelor Studenten des Dublin Institute of Technology. Einiges davon war wirklich gut, interessant und neu, anderes leider nur so "naja, nicht schlecht".
Danach waren wir dann fix was essen um endlich unseren Durst in einem netten Pub am Rande der Innenstadt (Tom Maye's) zu genießen, weit genug von den Touristen weg.
Als so ab ca. 9 Uhr immer mehr Leute in der Tür zu den "Ladies" verschwanden und nicht mehr wiederkamen war mir das dann doch etwas komisch. Ich fragte den Barkeeper, was es damit auf sich hätte, woraufhin der lachte und meinte, dass es durch die Tür nicht nur zu den Damentoiletten, sondern auch "upstairs" ginge.
Es gab nämlich, was ich dann erst herausfand, noch eine zweite Pubetage. Dort trifft sich immer freitags An Góilín, ein Gesangsverein für traditionelle irische Lieder zum Singen. Alles Solo und ohne Begleitung, einfach so. Das war mal was! Alte Opis, die mit unerwartet schöner, getragener Stimme alte Geschichten–Lieder zum Besten gaben, ein absolutes Erlebnis. Also ich weiß schon, was ich nächsten Freitag wieder mache :-)
Democracy is the recurrent suspicion that more than half of the people are right more than half of the time.