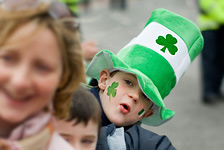 Ach ja, Irland ist wirklich nicht so schlimm, wie sich immer alle (vor allem die Iren) beschweren :-)
Heute Morgen wurde stolz auf RTÉ (quasi der Irischen ARD) verkündet, dass Irland in der neusten Ausgabe des Lonely Planet Bluelist Buchs auf Platz 1 der freundlichsten Länder der Welt gewählt wurde (vor Ländern wie Malawi, den USA, Vietnam, Thailand, Türkei, Schottland und Samoa)!
Bob's Kommentar eben (mein Betreuer): "Clearly, those people that voted have never been here, right?" (Offensichtlich waren die Leute, die da gewählt haben, noch nie hier gewesen).
Also ich finde die Iren sind definitv extrem herzlich, offen und gastfreundlich Fremden gegenüber. Dass das Land es allerdings auf den ersten Platz geschafft hat hat mich aber auch etwas überrascht…
Those who can't laugh at themselves leave the job to others.