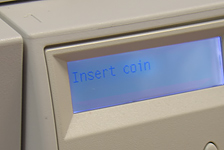 Hachja, was gibt es besseres als das Wochenende mit einem richtig feinen "Office Prank" (Büro Streich) zu beginnen?
Plötzlich brach großes Gelächter bei uns im Druckerraum aus. Irgendjemand hatte die Statusanzeige der Drucker manipuliert (normalerweise steht da nur ganz langweilig "Ready"…), so dass bei einem Drucker "Out of cheese", bei dem direkt daneben "Also out of cheese" und bei dem im Büro der Sektretärin "Out of Chedar" auf dem Display stand . . .
Nach kurzer Recherche habe ich gesehen, dass es vor kurzem auf BoingBiong Gadgets einen Artikel gab, der widerum auf diesen Blogeintrag verwieß, wo man ein kleines Perl-Script findet, was genau das macht: Die Statusanzeige eines Netzwerkdruckers beliebig ändern. Ganz einfach, ohne Passwort, ohne alles.
Inzwischen steht "Insert coin" (Münze einwerfen) auf dem einen Drucker, "Ready (I think)" auf dem anderen. Mal sehen, wo das noch hinführt . . .
Don't feel bad. A lot of people have no talent.