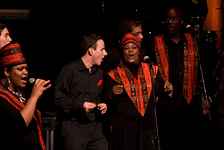 Letztes Wochenende war ich in Limerick, im südlichen Westen von Irland. Dort fanden zwei Sachen statt: Ein Gospel -Workshop, und ein Konzert — von niemand geringerem als dem Harlem Gospel Choir!!!
Der Workshop war ganz nett, aber hat mir persönlich nicht wirklich viel gebracht. Es gab irgendwie nichts zu lernen / mit nach Hause nehmen. Bei dem Konzert war das allerdings was ganz anderes. Ich hatte zwar erwartet, dass es bestimmt schon cool wird, aber dass es dann sooo genial war hätte ich mir nie träumen lassen. Dass die Mitglieder in dem Chor die Oberhammerstimmen haben war ja abzusehen, aber die Energie und Dynamik, die sie an den Tag gelegt haben, das war einfach unglaublich…
Das beste war aber: Da wir ein paar ausgewählte von uns "Vorband" waren, wurden wir dann auch zu den letzten 5 Songs mit ihnen auf die Bühne gebeten und durften somit "Oh Happy Day", "Isn't She Lovely", "Celebration", "We Are The World" sowie "Amen" mit ihnen zusammen singen! Hammer, was für eine Erfahrung. Das ist bestimmt, wie mit Boris Becker mal ein paar Sätze Tennis zu spielen!
Danach ging's dann mit den ganzen Chorleuten (fast alles Iren) in der Hotelbar zur Sache, wo wir bis in die Morgenstunden gezecht und gefeiert haben…
Marriage is a relationship in which one person is always right and the other is the husband!