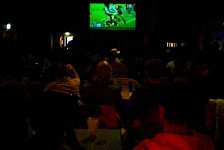 Komme gerade (zugegebenermaßen leicht alkoholisiert) aus der "Bar on the Hill" wieder. Dort haben sie eine Live–Übertragung des ersten (von drei) State of Origin Spiels gezeigt.
Das ist ein Rugby League Spiel, bei dem New South Wales ("mein" australisches Bundesland) gegen Queensland (das Bundesland nördlich von NSW) spielt. Die Mannschaften werden jeweils aus den besten Spielern des jeweiligen Bundeslandes gebildet (daher der Name . . .).
Jedenfalls haben "wir" das erste Spiel gewonnen, es ging, recht knapp, 17:16 aus :-)
War auf jeden Fall ein berauschendes und sehr emotionales Erlebnis mit all den Vollblut–NSWlern im Pub . . . Und der Schooner (ca. 400 mL) Guinness hat nur 2.20 AUD (etwa 1.70 EUR) gekostet!