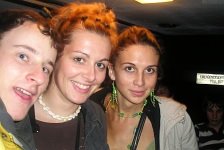 Was für ein unwerwartetes Glück — letztes Wochenende kam ein ganzer Schwung Franzosen hier in Newcastle an. Zwei davon sind bei mir am Institut gelandet.
Sie bleiben für ein paar Monate hier, um ein bissl zu forschen und Papers zu schreiben, wenn ich das richtig verstanden habe.
Ich freu mich aber deswegen so sehr, da das mir eine gute Möglichkeit bietet, mein Französisch mal wieder ein bisschen aufzupolieren und ein wenig Sprachpraxis wiederzubekommen.
Gestern Abend hab ich sie jedenfalls dann mit dem Standard–Mittwoch–Abend –In–Newcastle vertraut gemacht: Bar on the Hill => Bus To Town => Customs => Brewery und schließlich Fanny's . . . War ein netter Abend, nur wurde alles mal wieder etwas spät. Life can be tough.