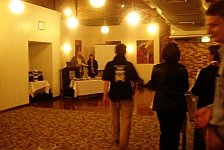 Gestern Abend war eine kleine offizielle Veranstaltung von der Universität, um uns RoboCup Weltmeister zu ehren. Dort hat jeder im Team ein schönes Zertifikat vom Kanzler überreicht bekommen, ein paar der DVDs (die ich gemacht hab…) und einen University of Newcastle USB Stick (sehr schlicht, silbern, mit dem Uni–Logo drauf und 256MB drin).
Dazu gab's Speis und Trank für umme, was wir auch kräftig ausgenutzt haben ;-) Danach ging's dann noch weiter in die Bar on the Hill und der Abend wurde spät und feucht und fröhlich :-)
Everyone has a photographic memory. Some just don't have film.