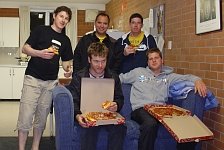 Nach einem arbeitsreichen Wochenende gab's heute Abend noch ein bissl Spaß. Naja, Spaß ist zu viel gesagt, es war Christian's kleine Abschiedsparty. Er war mir ein guter Freund, Kumpel und Vertrauter geworden hier. Wir sind zusammen gereist, haben viel gefeiert und gequatscht, hey, wir hatten ja sogar einen Podcast zusammen aufgenommen!
Aber in Deutschland werde ich ihn auf jeden Fall besuchen fahren. Thanks Christian for the good time :-) I'll miss ya mate!
My spouse and I divorced over religious differences. I thought I was God, and she didn't.