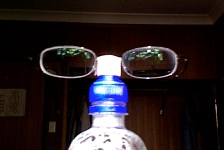 Am Ende ging ja doch nicht alles schief, zum Glück. Hier meine Brillen–Story.
Ich war ja neulich so clever, mir ein Brillenglass zu zerscheppern. Anfrage beim Optiker hier: neues Glas dauert mind. 5 Wochen (!) und kostet über 400 Dollar (!). Anfrage bei Fielmann in Deutschland: Dauert nur ein paar Tag, und kostet 42 EUR. Mein Papa war so lieb, das alles für mich zu organisieren, hat das neue Glas dann gleich per Expresspost loszusenden und so kam es vorgestern hier an.
Wieder beim Optiker gab's ja die nächste Überraschung (zum Glück nicht preislich, denn das Einpassen kostete nur 15 Dollar): Man könne mir keine Garantie geben, ob sie das Glas beim Einpassen nicht kaputt machen — und die Chancen dafür stehen, leider, sehr hoch. Mit anderen Worten, wir geben unser bestes, aber es kann sehr gut sein, dass wir einfach Dein Glas ruinieren, Du 50 EUR ärmer und 2 Wochen älter bist, aber einer reparierten Brille noch kein Stück näher gekommen bist…
Hurra hurra, was für eine Aussicht. Aber — es ging zum Glück alles auf Anhieb gut, und ich muss endlich nicht mehr 24/7 mit Kontaktlinsen rumrennen (was vor allem, wenn man den ganzen Tag auf kleine Schrift auf dem Bildschirm starrt, sehr ermüdend sein kann…)
Give instruction to a wise man and he will be yet wiser.