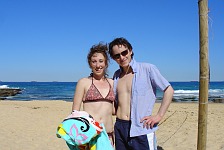 Austarlien ist ein sonderbares Land (okay, alles was jetzt folgt, überträgt sich so sicherlich auch auf viele andere Orte auf diesem Planeten, aber ich bin nunmal grad hier…)
Ich war heute am Strand, mit allem drum und dran: Beach Volleyball, viel nackter (und weiblicher ;-)) Haut, im Meer Baden, Sonnenbaden, Eisessen, etc. Es war wunderschön und mal wieder ein willkommene Ablenkung wieder zu kleinen fußballspielenden Hündchen — hey, ich hab mir sogar ein bissl Sonnenbrand geholt (trotz Eincremen)!
Here's the catch: Es ist "Winter", und zwar ungefähr so doll Winter wie Mitte Februar zu Hause! Trotzdem fanden meine ganzen australischen Kumpels das irgendwie total normal, einfach mal (im Winter…) an den Strand zu fahren, surfen zu gehen and what not.
Australien ist ein sonderbares Land…
I'm really easy to get along with once you learn to worship me.