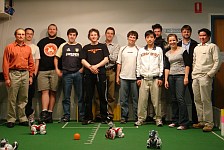 Als wird gestern Michael's Promotion zelebriert haben (also, genaugesagt, die Annahme seiner Doktorarbeit — wann das ganze Bürokratische und Offizielle nachkommt, ist eine andere Frage) waren mal alle zusammen, mit denen ich täglich öfter zu tun habe.
Also hab ich die Gelegenheit genutzt und alle auf unser kleines Fußballfeld getrommelt, für ein Gruppenphoto. Leider hatte ich an dem Tag nur eine Jogginghose an (Knorni wird ja immer sportlicher…), aber es ist, meiner Meinung nach, trotzdem ein sehr schönes Photo geworden.
To err is human. To moo is bovine.