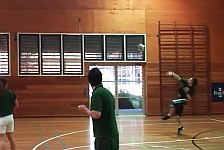 Hier Part II, warum Sonntag ein besonders schöner Tag war. Am Morgen war an diesem Tag ja noch die Intercol Mixed Volleyball Comp, d.h. ein kleines Volleyball Turnier zwischen den 4 Wohnheimen hier auf dem Campus, mit gemischten Teams (also Mädels und Jungs).
Dort haben wir (International House) zwar leider nur den Zweiten gemacht, aber es war verdammt knapp. Das beste Team, die von Edwards Hall, hatten 4 Vereinsspieler im Team (wir keinen) und waren ganz klar die Favoriten. Trotzdem haben wir gekämpft und die Spiele nur sehr knapp verloren (19:21 und 20:22 !).
Jedenfalls hat Knorni 'ne Menge Spaß gehabt, und das ganze wurde auch in einem kleinen Video verewigt. Achtung, dieses ist zwar 22 MB groß, dafür aber in besonders hoher Auflösung und Qualität ;-)
It's often cheaper to be forgotten than remembered.