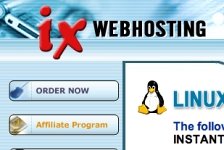 Langsam ist's vollbracht. Nach einigen Holpereien mit Nameservern, Domains und Blogger, scheint langsam alles aufzugehen: Mein Umzug vom Uni–Server auf einen richtigen Webhost.
Das war früher oder später notwendig, damit ich a) unabhängig vom IFAT werde (dem Institut an meiner Uni, wo ich bisher meinen ganzen Kram liegen hatte) und b) kein schlechtes Gewissen mehr wegen übermäßigem traffic haben muss ;-)
Mein neuer host wurde an vielen Stellen gelobt, hat ein krasser Preis Leistungs Verhältnis, vor allem gegenüber Deutschen Providern, und der Support ist Klasse (24/7 Live Chat und Telefon–Support, alles für umsonst — da kann sich 1&1 mal 'ne Scheibe von abschneiden…).
Werde die nächsten Tage aber noch einiges rumzuwurschteln haben ;-)
If you live within your income, you'll live without worry, and a lot of other things.