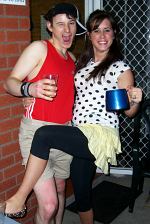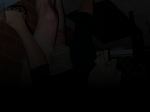 Auch wenn mein Kleiderschrank nicht wirklich dafür ausgestattet ist (zu Hause wäre das was anderes), bin ich gestern Abend auf 'ne 80er Jahre Party gegangen. Boa war das herrlich, allein schon die Mucke.
Wir haben lustige Party / Saufspielchen gespielt, getanzt und gelacht und sch***e ausgesehen. Eigentlich wie immer.
Am brutalsten war aber die Bowle, die's umsonst gab. Der Kater heute morgen kam irgendwie… erwartet.
Was die Diplomarbeit angeht (wollen wir ja nicht vergessen), wird's langsam. Habe gestern die Einleitung und heute die Conclusion (Schlussfolgerung?) fertig geschrieben. Nächste Woche kriege ich hoffentlich die Korrektur der ersten drei Kapitel von 'ner Freundin wieder, dann werde ich langsam die Überarbeitungsmachine anwerfen… Alles wird gut.
If you try to fail, and succeed, which have you done?