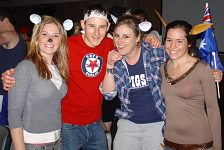 Letzten Samstag Abend war die seit langem geplante und organisierte "Soirée" (ich persönliche hätte ja dem ganzen noch ein internationale angehangen um dem ganzen ein bissl mehr Aussagekraft zu verleihen, aber egal).
Es war ein internationaler und multikultureller Abend, an dem es ein schönes, mehrgängiges Abendessen mit Programm und viel Spaß gab. Den verschiedenen Wohneinheiten (units klingt irgendwie netter…) wurden Ländern zugeornet, und die Bewohner sollten sich möglichst passend — im Endeffekt natürlich sämtliche Clichés breittretend — kleiden. Meine WG (von der mal wieder keiner mitmachte) hat Japan abbekommen. Ich also, in Ermangelung von Mitteln und Zeit, mir mein rotes Wagamama T–Shirt angezogen und ein bissl Klopapier um die Birne gebunden ;-)
Auf der kleinen Bühne hat ein Australier das Didgeridoo vorgestellt, es gab einen indischen Tanz, eine Thai–Boxen Vorführung und und und. Zum Ende hin wurde sogar ein bissl Merengue getanzt :-) Alles in allem, ein wunderbarer Abend. Vielen Dank an die Organisatoren nochmal!
Science is like sex: sometimes something useful comes out, but that is not the reason we are doing it.