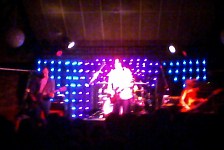 Gestern Abend gab's mal wieder was für die Ohren. In der Bar on the Hill hat Something for Kate gespielt, eine Band aus Melbourne, die schon ordentlich rumgekommen ist, u.a. auch in Deutschland.
Als Vorbands gab's die Seabellies, eine sehr geile Band hier aus Newcastle, mit wunderschönen und distinktem Sound, sowie Expatriate, 'ne Band aus Sydney.
Wie immer hat's gut gerockt, und es war ein genialer, headbangiger Abend (ne, mit meinem wuchernden Haupthaar klappt das ja auch immer besser…).
If you eat a half pound of pasta, followed by a pound of antipasta… can you lose weight?