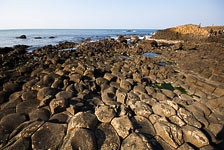 Weiter geht's mit dem Samstag des Belfast-Wochenendes: Wir haben eine Eintagestour zum "Giant's Causeway" (dem "Riesen-Damm/Fußweg") gemacht.
Das ist ein Küstenstreifen, wo durch erkaltete Lave (Island lässt grüßen) interessante, sechseckige Basaltsäulen und -formationen zu sehen sind — hier im Panorama . Das ganze entstand allerdings der (wirklich genialen) Legende nach ganz anders…
Wir morgens los, hoch an die Küste, weiter in den Ort Bushmills (wo auch der berühmte Whiskey herkommt) — dort gab's Mittag. Weiter zum Causeway, wo wir genug Zeit zum Spazieren und Rumwandern hatten. Dann ging's schon wieder an den Rückweg, der uns an einer beeindruckenden Burgruine vorbeiführte. Letzter Halt war an einer anderen Bucht, wo man auf einer kleinen Hängebrücke seinen Mut testen konnte (naja, 30m fand ich jetzt nicht so die Herausforderung, ich hab lieber lustige Bilder geknipst ;-))…
In Belfast warteten natürlich wieder die Pubs auf uns, diesmal entschlossen wir uns für den ältesten der Stadt, wo sogar ein paar Musiker traditionelle irische Stücke gespielt haben.
How to make a cat drink: Put it in a blender, strain off the fur.