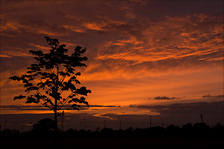 Der Campus hier ist ja für seine krassen Sonnenuntergänge / Farbenspiele des Himmels schon berühmt.
Als es gestern mal wieder quietsch pink durch die Vorhänge schien hab ich's dann doch nicht mehr ausgehalten und bin mit der Kamera los um noch ein paar Bilder zu knipsen, diesmal allerdings einen Polfilter vor der Linse, damit die angeleuchteten Wolken sich noch mehr und krasser von dem diesigen Hintergrund–Himmel abheben.
Ganz interessant ist, denke ich, dieses Photo hier geworden. Achtet mal darauf, wie Euer Auge über das Bild streift, d.h. welchen Weg es nimmt… Ich fang irgendwie immer unten rechts an fahr dann ein "z" rückwärts ab. Ihr auch? Das Gebäude rechts im Bild ist übrigens wieder mein geliebtes Hamilton Institute ;-)
PS: Ich blogge in letzter Zeit so wenig, da ich immer noch jede freie Minute dem Podcastkrimi widme… Aber es geht sehr gut voran :-)
When I'm feeling down, I like to whistle. It makes the neighbor's dog run to the end of his chain and gag himself.