Helix, Dublin, 2009">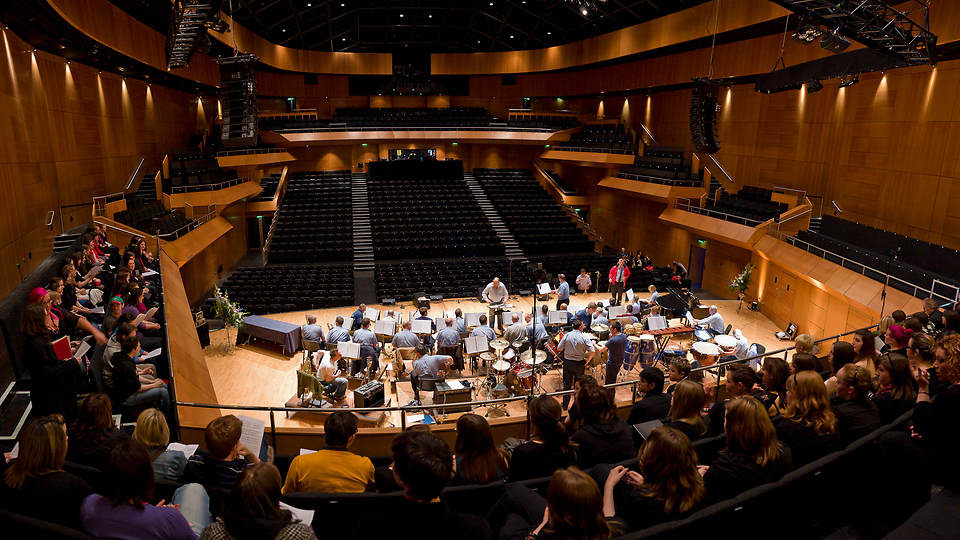 Sorry it took me so long to post something new. But we're all super busy these days, aren't we?
I'm particularly excited about today's photo; let me tell you why. When I was singing with the NUI Maynooth Gospel Choir(and a bunch of other choirs as well as Irish stars) was singing at a fundraising Gala Concert last week, I obviously brought my camera along and shot a few photos surrounding the event. Unfortunately I didn't pack my wide angle lens and was stuck with "only" 24mm (which is still quite wide, compared to the usual 30mm or even 35mm+ you get with compact cameras).
Being up in the choirs stalls we had this great view of the venue (the Helix in Dublin) and I desperately wanted to capture it. So I tried something I haven't done in a good while — a panorama shot. As I didn't bring a tripod either, I had to do take it handheld. So I set the camera to manual mode, adjusted the exposure and took 5 photos (in portrait orientation in order to get as large a vertical field of view as possible).
I then remapped the photos in Hugin — a wonderful but slightly technical open-source, cross-platform panorama stitching software — and blended them together in Photoshop. Basically the remapping step "distorts" the images so that the overlapping parts match on top of each other, and the blending step, well, blends the pictures seamlessly into each other.
When the whole process was done I was absolately amazed by the result, considering it was done hand held in a quite challenging light situation, with people moving and all. I've experimented with panaromas quite a while now. It started on our New Zealand trip five years ago, continued in Iceland and culminated in me buying a panoramic tripod head, which produced (among others) these panoramas (1, 2, 3). However, I've taken less and less panoramas lately because they are rather time consuming to make, and also hard to print.
But seeing the constant progress of the panorama making software and how well this latest one worked out, I'll definitely try to do more (partial) panoramas in the future! Also, because of the very wide angle of view, this would hardly have been possible with a traditional camera lens — and if so, the rectilinear projection happening in such lenses would have heavily distorted people especially in the corners of the frame, which is not the case here (thanks to the equirectangular projection used here). If you would like to find out more about these technical term, start with this great overview of the different projections.