Thursday, 7 October 2010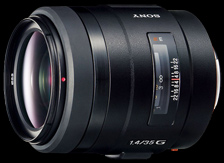 Here's another new series of posts. I'll be post­ing Adobe Cam­era Raw Lens Pro­files that I've cre­ated. If you don't know what this is, don't worry ;-)

The first one is the Sony AF 35mm F1.4 G (or SAL-​35F14G) pro­filed on a Sony Alpha 900 (DSLR-​A900) body. How­ever, this pro­file should also work well for the two pre­vi­ous Min­olta ver­sions of the lens as well as when moun­ted on an Alpha 850 body.

I shot the fol­low­ing series: 7 Aper­tures [1.4, 2.0, 2.8, 4.0, 5.6, 8.0, 11.0] x 3 Focus dis­tances [0.35m, 1m, 1.7m], res­ult­ing in a total of 126 pic­tures. The ZIP file con­tains sev­eral files. One that con­tains all the sub pro­files in one file, as well as sep­ar­ate files for the dif­fer­ent focus dis­tances (since you can't select sub pro­files in Light­Room at the time of writ­ing). Update: The file now also con­tains a DNG color pro­file for the lens! The fol­low­ing link will attempt to open a popup win­dow, so please allow this.

Down­load
Down­loaded 587 times

As you may know, cre­at­ing such pro­files takes a con­sid­er­able amount of time and large prints of the cal­ib­ra­tion charts. If you find this pro­file use­ful, please con­sider a small dona­tion (con­veni­ently via PayPal):
Thank you!